'Aisha by Ronasutra' 2-Way Wudhu' Skincare
PRODUCT INFO
Aisha 2-Way Wudhu' Skincare is a specialty skincare designed for the modern, busy Muslimah who needs to wear makeup to look presentable while balancing her religious obligations of performing wudhu' and solat.
The ritual of wearing and taking off makeup/sunscreen 5 times a day to perform wudhu' can be a time-consuming affair, and can affect the complexion due to frequent cleansing and exposure to the drying effects of water.
With Aisha 2-Way Wudhu' Skincare, you need just one product to cleanse, remove makeup, moisturize and prime your skin for makeup application. It is truly a versatile product and a unique innovation that allows for multifunctional use. The soap-free formulation enables it to double as a leave-on product. Natural oils and extracts treats and beautifies skin everytime you use the product.
No more tugging and pulling with wet wipes to cleanse your face before wudhu'.
Best of all, Aisha 2-Way Wudhu' Skincare will leave your skin soft, supple, brighter and poreless!
Paraben-free
Alchohol-free
Synthetic fragrance-free
Soap-free
CHOOSING FOR YOUR SKIN TYPE:
If you are 30 year old and above, choose Aisha 2-Way Wudhu' Skincare for Normal to Dry/Mature Skin
If you have oily and blemished/acne skin. choose Aisha 2-Way Wudhu' Skincare for Normal to Oily/Acne Skin.
Additional info: Makeup that needs to be removed before wudhu'
a) Film-type waterproof mascara/eyeliner
b) Oil-based/silicone-based foundation and sunscreen
c) Waterproof lipstick and lip matte
HOW TO USE
Pre-wudhu' Care
1. Spray 5-8 pumps to face/palm and massage for 15 to 30 seconds to melt makeup and impurities away. You may add some water to ease the massaging process.
You can also spray the product on to cottonpad to wipe away makeup. Do ensure that the cotton pad is soaked to remove makeup easily. No need to rinse off.

2. Rinse off with water.
3. Perform your wudhu'.
Post-wudhu Care
1. Spray 2-3 pumps onto skin and pat until absorbed.
2. Apply makeup as usual.
3. The product can also be sprayed on after makeup to set it or during anytime that you need to rehydrate and refresh your skin.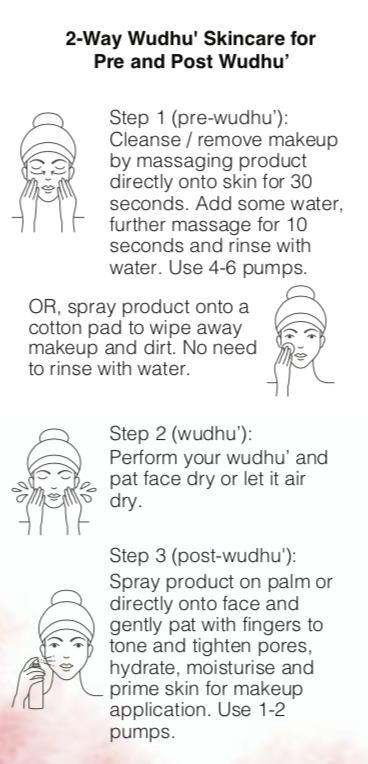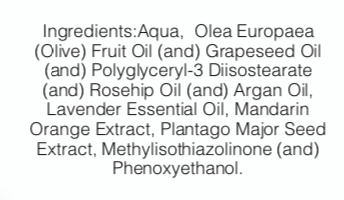 INSTRUCTION VIDEO
TESTIMONIES